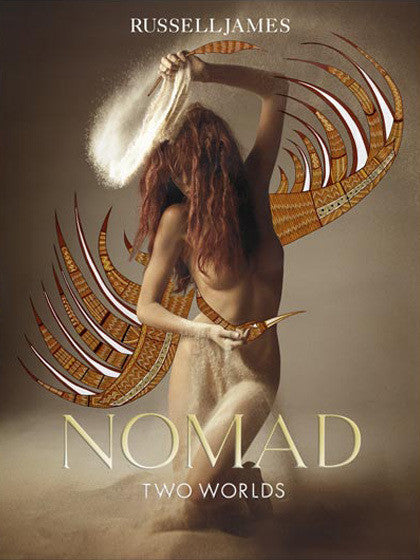 Nomad Two Worlds, 2012
Please Note: If you choose to have your book personalized please be sure to include text and/or instructions in the 'Special Instructions' field in the Cart.
Russell James's inspiration for all of his works can be traced back to his roots in North Western Australia, and the strong influence of extraordinary landscapes and ancient culture. A common thread between his fine art works and commercial photography is always his self-proclaimed desire to 'connect' to the world around him. Critical acclaim of James' works is often related to his connection to subjects through intimate portraiture, and his combination of vast and dramatic landscapes.
James began his 'Nomad Two Worlds' photography in 2001 and was first given an audience through the recommendation of Eileen Guggenheim, who proposed that his early works be shown at a highly prestigious event hosted by the brand Hermès in New York in 2001.
Since that time James has continually developed his Nomad Two Worlds photography and has used the photographs as canvases to create the Nomad Fine Art collaborative collections that have been exhibited around the world. However, James has never exhibited or published a dedicated volume on this genre of his photography, even though many of those who know him best say it is the genesis of all his works.
The images here are a small sample of the thousands of Nomad fine art photographs James has created since 2001, and that he continues to develop original concepts for to this day.
Book Details
Hardcover: 220 pages
Publisher: teNeues (September 15, 2012)
Language: English
Product Dimensions: 11 x 1.3 x 14.2 inches